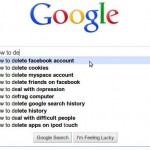 According to this Google screen-capture, more people are interested in deleting their Facebook account than deleting their browsing history.
Facebook keeps sending out these "We've changed our privacy policy" notifications, and I never pay any attention to them. However, there's a front page article on CNN.com that caught my eye.
http://www.cnn.com/2010/TECH/05/13/facebook.delete.privacy/index.html?hpt=C2
This portion of the article especially raised an eyebrow:
She was particularly concerned when one of her Facebook friends saw on the music site Pandora that she likes the band "New Found Glory."

"I was like, that's really creepy. I haven't logged in. I didn't give it permission. I didn't do anything," she said.
I went in and checked, and sure enough, Facebook has partnerships with a variety of companies with whom it is sharing my information. It's a small thing, but if I hide my music preferences from you, I don't think that, when you're playing Pandora, you should see a note that says, "Steve Shields likes The Beatles."
Naturally, I don't really care about that. But I am tired of having to keep track of what Facebook is planning to share about me next.
If you're planning to stick it out and stay with Facebook, you might want to check your own privacy settings.