Which Cloud Storage provider is the best? That's a good question.
I use SkyDrive, Dropbox, The Box, Google Drive, and Copy. These days, I like Copy the best. You can get it here:
I've been using Dropbox for years, and through referrals and other perks, I have a 22 GB free account with them. I can remember when I thought that would always be enough. But then again, I remember thinking I'd never fill an ST-225 with 20 MB of data.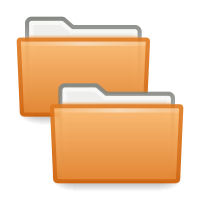 Copy's biggest strength is that the free package is much bigger than Dropbox's free package. And size matters when it comes to cloud storage. Just three months ago, Google demonstrated an awareness of this by increasing it's free cloud service to 15 GB – up from 5 GB.
When it comes to size, Copy leaves Dropbox and Google Drive in the dust by starting free service at 20 GB (15 + 5 if you are referred by a friend — or by me by clicking here). Then you can add storage via referral 5 GB at a time. Last time I checked, Dropbox was giving you 1/20th of that, or 0.25 GB per referral. While The Box offers 50 GB free, usability in the free version was crippled from the start.
Is Copy cloud service safe? Well, it comes from Barracuda Networks, a long-time computer security company, so I am guessing yes.
Another thing to take into account when you make a comparison between Dropbox, Skydrive, Google Drive, and Copy is something Copy calls Fair Storage. This means that when you share a 2 GB file with me, it doesn't take 2 GB of your storage and 2 GB of mine. We split it. So we each only use 1 GB of our Copy folder.
Thinking people will not delay in getting Copy Cloud Service. Some history explains why.
First, when Dropbox started out, they gave 0.5 GB for each successful referral. They cut that in half as time went by.
Second, when was the last time you were able to refer someone to Dropbox? It's getting harder and harder to find someone who doesn't have it. And when you find someone who doesn't, you realize it's because they either don't need it or can't see that they need it.
I have Copy running on my Android phone, my Acer tablet, an XP machine, three Windows 7 machines, an Xubuntu (Linux) machine, and a Linux Mint machine. They all work fine. I understand that Copy doesn't work on older versions of the Mac operating system, but Mac users tell me updating their OS is a snap, so that shouldn't be an issue. Currently, I still use Dropbox for everyday files. I use Copy for pictures, audio, and video I like to keep backed up. Sharing files or folders is also very easy via Copy. And secure.
Get it now so you can increase your own free storage through referral before everyone else has it. Click this link to get an extra 5 GB over the normal 15 GB: https://copy.com/?r=jFZwiy
One note about Copy is that occasionally the referral service doesn't give the referrer credit. If you get it and install it, you might let me know by emailing me. Then if I don't get credit, I can talk to their support.